Publishing services
There are more and more readers who, for convenience, opt for the audiobook format to enjoy its contents. We know that having a quality audiolbro is fundamental, so in Blavox we offer you all the tools and services so you can create your own audiobooks and put them on sale with all the guarantees. We have the best speakers and text-to-speech software. What are you waiting to start?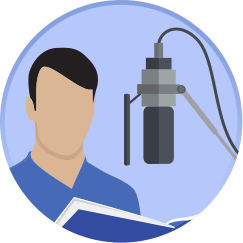 Professional Speakers
Do you imagine putting your book in the hands of the best speakers so that your story comes to life? We introduce you to our professionals, experts in the recording of audiobooks, with years of experience in the world of dubbing and locution. We have voices suitable for any type of book: novel, poetry, essay, children's texts ... Listen to them and choose the one you like.
---